For commercial, residential, and industrial steel buildings there are many choices for the color of your metal. Adding a vibrant color will help differentiate your steel building while also maintaining the image you are representing in new construction of steel buildings in California.
Steel Building Color Choices for Commercial Construction
The commercial color selections come with a 40-year limited paint warranty for all colors except Crimson Red, Polar White and Brite Red. Residential color selections are more varied but have less gauge options.
Two versions of commercial paint Signature 200 and Signature 300 are used on steel building development. They are both sold standard for 26 gauge material made of Siliconized Polyester (available in 29 gauge) or Kynar 500 / Hylar 5000, and Low Gloss (available in 24 gauge).
All color choices are also available in smooth or embossed finish and are ENERGY STAR Qualified. See all your commercial options below or see all residential/commercial/architecture/eco-ficient color charts from MBCI.
Download Commercial Color ChartDownload Residential Color Chart
Signature 200 Standard Colors for Commercial Buildings
Hawaiian Blue
Crimson Red
Fern Green
Burnished Slate
Ash Gray
Saddle Tan
Desert Sand
Koko Brown
Charcoal Gray
Cobalt Blue
Rustic Red
Light Stone
Polar White
Solar White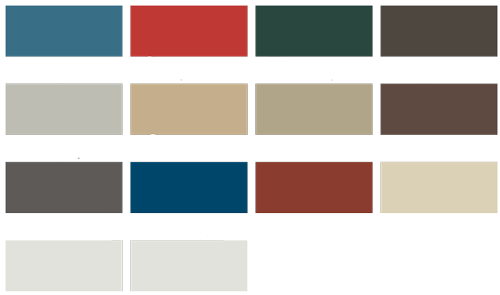 Signature 300 Standard Colors for Commercial Buildings
Medium Bronze
Snow White
Slate Gray
Almond
Classic Green
Brownstone
Brite Red
Harbor Blue
Bone White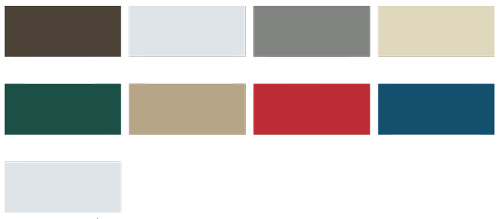 Steel Buildings Published Thickness
Metal Panel thickness, gauges and quality control are also referenced in the MBCI published metal panel information. There is a range of acceptable variation in the relationship between "gauge" and metal thickness as measured in inch-pound units (inches) or metric units (millimeters). The industry (sheet metal) uses a variety of charts to identify the range of thickness in steel metal buildings for base sheet steel, g90 zinc-coated (galvanized) sheet steel, and aluminum-zinc alloy- coated sheet steel and their corresponding "gauges".
Steel Buildings Gauge Terminology is Not Standard
There is no model national standard or specification that relates to these gauges to a decimal thickness. It is important to know what each manufacturer uses for design thickness especially for quality control of steel buildings. MasterSpec, a commonly used architectural specification system in the U.S., uses inches and millimeters rather than gauge. Their "nominal" thickness corresponds to an average thinkness, which is usually rounded to two significant digits and not matching manufacturer's designed thickness.
Steel Buildings Construction & Quality Control
Our manufacturers use quality control processes with precise verification of minimum sheet metal thickness for coated and painted coated steel. This ensures the material used to manufacture metal is in compliance with the design thickness requirements. Part of a third party accredited quality assurance program from MBCI, customers can be confident that the steel building panels will be in accordance to published load tables.
Contact Us to Choose the Right Colors and Metal Thickness for your Steel Buildings
Pascal Steel is with you every step of the way! Drawing on over 60 years of in-house experience with every facet of metal building construction, we will help you with the planning, design, materials, and erection of your steel building – big or small! Call us at (760) 944-7667 or use the contact button below to learn more about our steel building capabilities.